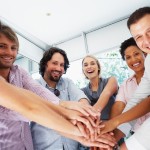 The positive effects of collaboration in business are becoming more well known, and that kind of success can carry over to event management as well. Networking can help you improve your event performance, organization, and volunteer productivity, and it can drive in new business as well.
Event promoters who are members of several networks, and who enroll attendees as affiliates who are also members of several networks, are more likely to maximize attendance and enhance the success of an event.
No matter what your event is focused on, an event driven by connections and referrals is going to pull in more qualified attendees who will be more likely to be interested in the products and services offered at the event and who will contribute to a more enriching experience for all attendees. The effects of working together can be extremely explosive when it comes to you event promotion and experience.